Recently we have had an increase in the number of machines coming in for a data transfer to a new machine, only to discover that the hard drive was encrypted and there is no way to transfer the data with out decrypting the drive 1st. This is fine as long as the machine is still running and operational, but more complicated if the machine is no longer turning on or if the hard drive is failing.
What we discovered is that the users themselves had no idea that their drives were encrypted and did not have a copy of the encryption key.
It turns out that some manufacturers were enabling this as a standard feature from the factory and this made it tough when the machine dies without an easy way to access the data.
We recommend that you follow these simple steps to check if your hard drive is encrypted
Check if your device is encrypted (Windows 10 Pro/Enterprise/Education editions)
In Windows Explorer in the left hand column, click on This PC and on the right hand side you should see a padlock icon on the drives that are encrypted.
Highlight and right-click on the drive you want to verify the "BitLocker Options". If you see the message Encryption on, your hard drive IS encrypted: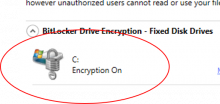 If your drive does not have the padlock icon, it is NOT encrypted. Right-click on the drive and select Turn on BitLocker and follow the on-screen instructions. 

The next question that we get asked is who needs encryption?
The answer is anyone who stores confidential information on their computers, especially customers socials etc,  should have encryption. Insurance companies and law firms are some of the first that come to mind
If you need to have encryption we recommend backing up the data first and keeping a USB device with a backup of your key. If the encryption fails or you lose your encryption key, your data will be inaccessible
So what should you do now?
Check to see if your hard drive is encrypted
Then either enable encryption (backing up 1st) or leave it alone, but still perform a backup anyway!
You can also bring it in to Impress and we will do this for you https://www.impresscomputers.com/computer-repairs-services/data-encryption/